JÜRGEN FRITZ (D):
"Black Market International -
20th Anniversary"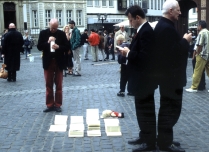 >>> Performance text (German)

Video documentation


>>> Deutsche Fassung

<<< Back to Overview

"Black Market International" is regarded as one of the most influencial formations within international performance art. Since 1985 eighteen artists from eleven nations as well as numerous guest artists collaborated under this label. The originally europe-oriented formation meanwhile became an international network with artists from different European countries as well as from Mexico and Singapore.
The concept of this collaboration is unique: There are no rehearsals, no choreography or dramaturgy. The associated artists meet within the performance - more is not planned. The performance is realized in present out of the encounter of the artists.
Jürgen Fritz brings pictures, sounds, videos and other material out of the rich pool of twenty years of collaboration. Whether this evening becomes a contemplating look backwards or a critical confrontation with the "old boys style" depends on the audience and on the material Jürgen Fritz brings from his latest trip to Japan.

www.fritz-performance.de


Jürgen Fritz
(born 1958) studied theatre and music. Since 1982 he has worked as director, actor and performance artist in different collaborations. Since 1985 he has travelled with BLACK MARKET INTERNATIONAL: 1987 and 1992 to Documenta in Kassel, to the opening of the German pavillon at the EXPO 2000 in Hannover as well with further performances through the whole of Europe, to the USA, Canada, Mexico, and Japan. Since 2004 he lives and works in Hildesheim.